Economic Outlook Breakfast Offers Expert Perspective

The tumultuous reaction to recent bank failures is only one of the pressures straining the U.S. and world economies. What should we expect in the coming months, and how can businesses of all sizes best protect themselves from emerging problems in the financial sector? The Chamber's Annual Economic Outlook Breakfast on April 25 will provide a balanced, data-driven overview of the economic landscape. Register Here.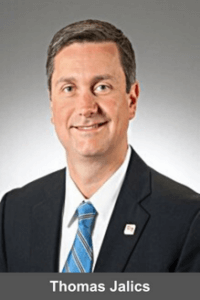 We are pleased to welcome Thomas Jalics, Managing Director & Chief Investment Strategist for Fifth Third Private Bank, as our presenter for this year's Economic Outlook. Tom leads the Investment Management Group's asset allocation process, both strategic and tactical, which informs the management of the $40+ billion in assets under management at the bank. He provides internal and external communication on the economy and the markets, making public speaking and media appearances on behalf of the bank. With over 25 years of industry experience, Tom has been a sought after industry expert and commentator having been quoted in the media including The Wall Street Journal, Bloomberg Business News, The Economist, and Reuters. Tom has also appeared on television and radio including Bloomberg (Television, Radio, and Business News), CNBC, and CBS Radio Chicago.
Additionally, Tom is a discretionary investment portfolio manager focusing on high net-worth clients. Prior to his current role, Tom was the Chief Market Strategist and Director of Asset Allocation at the Firm. Based in Cleveland, Ohio, Tom earned a Bachelor of Arts in Chemistry and Economics from Miami University and an MBA from the University of Chicago. He also has earned his Chartered Financial Analyst (CFA) professional designation.
The Economic Outlook Breakfast will be held Tuesday, April 25 at the Crowne Plaza Chicago-Northbrook Hotel from 8:00 to 9:30 a.m. This multi-chamber event is presented by the Northbrook, DBR, and Glenview chambers; members should register with their home chamber. The presentation will include time for questions for attendees. Advance registration is required by April 21. For more information, contact Gail Eisenberg, Membership & Events Director, at (847) 513-6006 or gail@northbrookchamber.org.