New Series Elevates the VOICE of Professional Women

Whether they are new entrepreneurs or seasoned veterans of their professions, women in business face unique challenges. The Chamber's new VOICE!™ workshop series is designed to support and empower participants through practical strategies and engaged camaraderie. The innovative new series launches on April 11 at the Northbrook offices of First Bank Chicago. Register Here.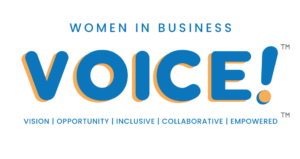 VOICE!™ – an acronym for Vision, Opportunity, Inclusive, Collaborative, Empowered – offers a six-session curriculum designed to boost business growth, with a focus on how women approach various business situations. Topics will include challenges experienced by women professionals, business planning, negotiation skills, leadership, work-life balance, networking and relationship-building, technology and cybersecurity, and developing a personal brand.
"Our traditional Women in Business lunches have presented inspirational stories of how our female members have achieved professional and personal success," notes Kathi Quinn, Chamber Executive Director. "The VOICE! Workshops are addressing the practical side of how we get to that success. We will have a wealth of resources as our speakers share their expertise."
The first session, on Tuesday, April 11, features a discussion of financial business plan tips led by Chamber Board Director Amy Kahhat, First Bank Chicago Vice President, followed by a strategy session to create a 90-day business plan led by Karen Cox, KLICK Thinking LLC.  Subsequent sessions are planned for June 27, July 18, August 22, October 17, and November 28. Participants can register for the full six-session series at a discounted rate (and receive a course materials binder), or opt for individual sessions. Those who complete the full series will earn a certificate of empowerment.
For more information about the VOICE! Workshop series, contact Gail Eisenberg, Membership and Events Director, at gail@northbrookchamber.org.