Represent Your Business at the Northbrook Farmers Market!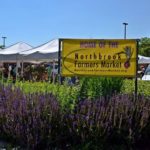 For the second year, members have the opportunity to connect with the local community via the Chamber Table at the Northbrook Farmers Market. This no-cost program enables businesses to personally greet shoppers at the popular outdoor market in downtown Northbrook.
"We loved being at the Farmers Market Chamber Table last summer! It was really fun to interact with residents and gave us phenomenal exposure," shares Julie Yusim, Todd Markman State Farm Agency. "It was a great way to reinforce our brand and our commitment to the community. We have already signed up to do it again this summer!"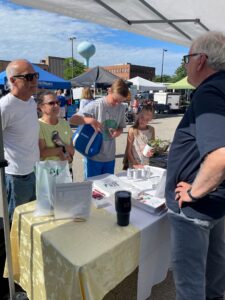 Celebrating its 15th season in 2023, the Northbrook Farmers Market season runs every Wednesday from June 21 – October 11 from 7:00 a.m. to 1:00 p.m.  Vendors open tents for fresh produce, flowers, and artisan foods in the Meadow Plaza parking lot, attracting thousands of visitors over the course of the season.
The bustling market provides a perfect setting for local businesses to connect with residents. At the Chamber table, members are able to share promotional giveaways along with Northbrook Community Guides and Chamber information.
Reservations for one member per week are being taken on a first come, first served basis. Participants need to pick up the pop-up tent, folding table and other materials from the Chamber office at least one day before their reserved date, and must set up at the market by 7:00 a.m. and stay until the market closes. Promotional products are welcome, but no product sales may take place during the market and paper flyers are prohibited.
For more information or to reserve your date, contact Kathi Quinn, kathi@northbrookchamber.org.