Watch Your Mailbox – Community Guide Arrives This Month!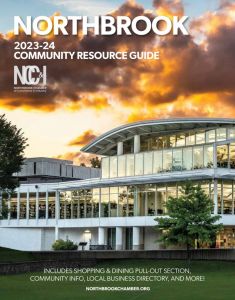 The 2023-24 Northbrook Community Resource Guide will be delivered soon! The Chamber's comprehensive guide to living and working in Northbrook connects members to residents and businesses with categorical and alphabetical directories as well as exclusive advertising opportunities.
From school calendars to Village services to special events, the Community Guide is a  reference that residents rely on throughout the year. This year's Guide features a bold new look with eye-catching images from talented local photographers. It is direct-mailed to households and businesses in the Village and distributed in high traffic locations including Village Hall, the Northbrook Public Library, hotels, real estate offices, and recreation centers. A digital version will be available on the Chamber website in the coming weeks.
To promote local retail business, the Guide includes a special pull-out Shopping & Dining Guide. With a comprehensive list of Northbrook restaurants and hotels and descriptive content that highlights the community's main shopping districts, the Shopping & Dining Guide is a valuable asset on its own or in combination with the full Community Guide.
Promote your business and other Chamber members by sharing the Guide with your customers! For extra copies, contact Carolyn Gessner, Chamber Communications Director, at carolyn@northbrookchamber.org or (847) 513-6005.