New Grants Available for Suburban Cook County Small Businesses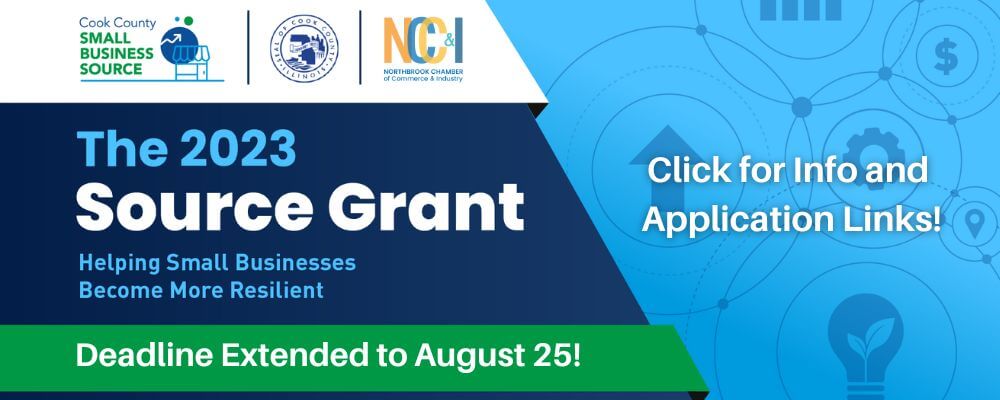 CLICK HERE FOR GRANT APPLICATION
The Cook County Bureau of Economic Development has launched the 2023 Source Grant, a program that will award $40 million in grants to thousands of small businesses with funds provided by the American Rescue Plan Act. The Northbrook Chamber has been named a referral partner by the Cook County Small Business Source to encourage and facilitate grant applications. The deadline for applications has now been extended until Friday, August 25 at 11:59 p.m.
"Cook County's small businesses have faced unprecedented challenges since the onset of the pandemic. The 2023 Source Grant will help them reset and thrive," said Cook County Board President Toni Preckwinkle. "I'm proud that this program will provide not only the funds small business owners need but also the business coaching critical to sustainable growth."
Small businesses are eligible to apply if:
they have been operating in Cook County prior to 2020, and
have fewer than 20 full-time employees on staff.
While open to all small businesses within the County, the program will prioritize:
suburban Cook County business,
businesses owned by veterans, and those
businesses in sectors deemed hardest hit by the COVID-19 pandemic by the U.S. Treasury, including Arts & Entertainment; Childcare & Social Assistance; Hospitality, Food & Tourism; Retail Trade; and Transportation & Warehousing.
Applicants may apply to receive one of two grant award levels through The 2023 Source Grant: businesses with a 2019 gross revenue between $20,000 – $50,000 are eligible to receive $10,000 grants and businesses with 2019 gross revenue of more than $50,000 are eligible to receive $20,000 grants.
The Cook County Small Business Source ("The Source") provides coaching and guidance to entrepreneurs through one-on-one business advising services led by a network of 50+ business support organizations, through webinars and live events, and a library of resources to support every business from a start-up to the seasoned entrepreneur.
The Source and its associated business support organizations, alongside program partner Next Street, will host in-person application help sessions and live webinars during the application window. Additional details can be found on The Source website.
"The Northbrook Chamber is excited to connect businesses in our community with the County's new Source Grant program," said Kathi Quinn, Executive Director. "We will have information available at our Business Expo on July 24, and will be happy to answer questions from any eligible business. Be sure to act fast, since the application window closes on August 18."
The Women's Business Development Center and Allies for Community Business serves as grant administrators. To apply for The 2023 Source Grant, and to learn more about documentation requirements, upcoming webinars, and help sessions, visit cookcountysmallbiz.org/sourcegrant. Click the following links to watch an explainer video in English and Spanish.